STOP PRESS: For information about of this year's 44th Annual event, on Sunday 26 June 2022, please see our Events page.

Regulations and entry forms are now available.

=

Our 43rd Annual Classic Car Rally, run by KLDMC in aid of NARS, ran on Sunday 4th July 2021, with over 80 entrants of classics spanning 75 years of motoring from 1930 to 2005… T

he Club was delighted to be able to make a presentation of £1000 to NARS, raised at the 2021 event.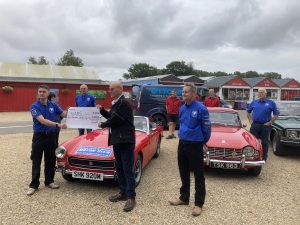 Car 1 takes to the road: Colin Shinkins flagged away Terry Cook's 1930 Austin, driven by Terry's daughter Lisa Elliott, from the start at Downham Home & Garden.

Car of the Day, voted for by all entrants, was won by Harvey Death's 1934 Bentley Blower
Winners of the ACA trophy for Car with Popular Appeal (selected by NARS' representative) was a 1965 Mini Traveller entered by Peter & Spencer Horsburgh, seen here at the Lynford Hall control point
2021's award winners are listed in full below.
Thanks to everyone who supported the day. The weather did its best to spoil things but well done to everyone for sticking with it and the sun came out again, eventually!
The event was kindly sponsored by Anglia Car Auctions of King's Lynn with additional support from Ottoway Carpentry of Dersingham, Bennetts Estate Agents of King's Lynn, Bearts of Stowbridge, Steve Cato Classic Cars & Restoration from Tottenhill and Downham Home & Garden.
The event was again run in aid of the Norfolk Accident Rescue Service (NARS). It started from Downham Home & Garden on the edge of Downham Market.
Lunch was at Lynford Hall Hotel and we secured permission from Forestry England to use the adjacent 'Bull Ride' areas for picnics. Our finish was at Ickworth House in Suffolk.
Thanks to all our entrants, venues, marshals and sponsors for your support.
We hope to see you all again in 2022.
ENTRIES:
Vintage & PVT (pre-1950)
1930 Austin – T Cook
1934 Bentley – H Death WINNER CAR OF THE DAY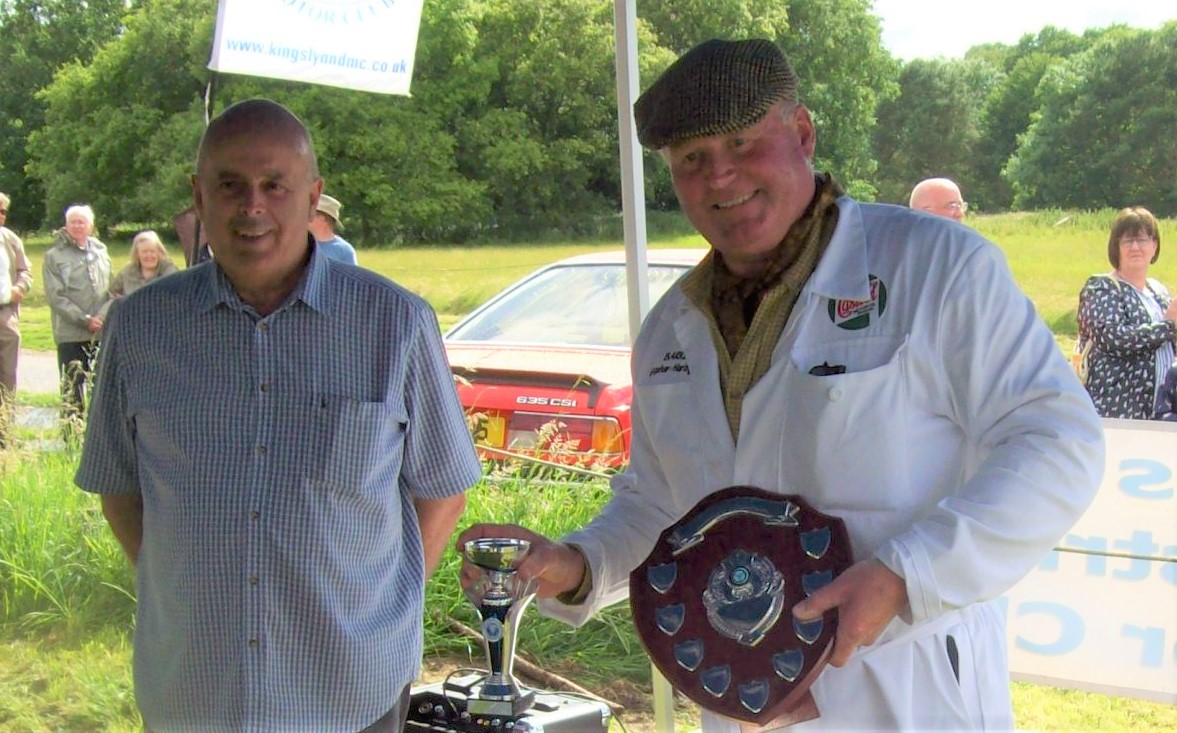 1936 Ford – N Smith
1936 Fraser Nash – B Riches WINNER VINTAGE & PVT CLASS
1947 Riley – T Cook
Historic Classic (1950-1971)
1953 Riley – A Gidley
1953 Austin – N Williams
1955 Austin Healey – T Sprosson
1958 MG – D Stammers
1959 Standard – P Foster
1960 Austin Healey – I Wilson
1960 Jaguar – G Dale
1960 MG – M Sheridan
1962 Ford – W Firth
1962 Triumph – D Russell
1964 Triumph – B Aistrup
1964 Riley – W Brown WINNER BEST DRESSED CREW


1964 Sunbeam – G Glover
1965 Jaguar – P Connor WINNER HISTORIC CLASSIC CLASS
1966 Jaguar – P Clarke
1967 Morris – A Burbridge
1967 Austin Mini – H Hardiment
1968 Triumph – D Bowman
1968 Triumph – J Corn
1968 Lotus – G Hodgkinson
1968 Triumph – D Dawson
1968 Triumph – J Oram
1968 Jaguar – A Stephenson
1968 Triumph – D Solomon
1969 MG – J Hesketh
1969 Mini – D Taylor
1969 Morris – T Peacock
1970 Mini – P Horsburgh WINNER ACA/NARS AWARD FOR
CAR WITH POPULAR APPEAL
1971 Lotus – M Mantle
Post-Historic Classic (1972-1986)
1972 Rolls Royce – T Sverdloff
1972 Triumph – M Grange
1972 Porsche – P Hernaman
1972 Lotus – T Gostling WINNER POST-HISTORIC CLASSIC CLASS
1972 Lotus – T Wales
1972 MG – R Ford
1973 Triumph – M Baker
1973 Volkswagen – N Parsons
1973 MG – C Shallice
1974 MG – H Haylock
1974 Triumph – C Anderson
1974 MG – B Gilham
1978 Porsche – R King
1979 Ford – C Bos
1980 Mini – R Lines
1981 MG – N Daubney
1983 BMW* – Adrian Cunnington
Modern Classic (1987-2006)
1988 BMW – J Wilson
1988 Mercedes – C Cornish
1988 Porsche – N Mann
1989 Fiat – T Overson WINNER MODERN CLASSIC CLASS
1990 Jaguar – H Churchill
1990 Lancia – J Read
1991 Porsche – C Sutton
1991 Mazda – B Wright
1993 Vauxhall – A Beesley
1993 Jaguar – D Sutton
1995 Porsche – S Cook
1999/64 AC – G Divey
2000 Alfa Romeo – B Gaskins
2000 Porsche – K Hodgkinson
2000 Porsche – J Setchell
2000 Subaru – C Blyth
2001 Citroen – G Collier
2001 Jaguar – M Forsdike
2002 MG – R Gormley
2002 Mercedes – R Thompson
2003 Mini – A Collier
2003 Mercedes – H Bradley
2003 Mercedes – M Vawser
2005 Smart – C Griggs
Other
2008 Aston Martin* – J Skuse
2015 Mercedes GT* – Adam Cunnington
posted 5 July 2021 Photos by Nick Way, Paul Smalley, Adrian Cunnington & Ed Haylock